Download brochure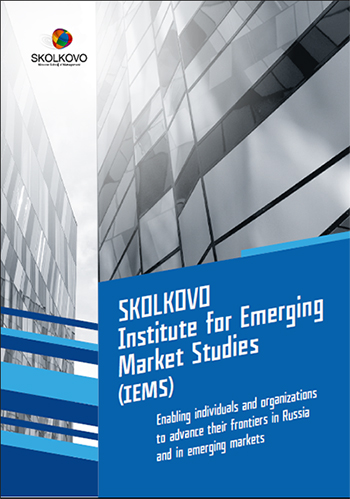 Download presentation about Centre
Research Areas
Sustainable Business Center

Founded in 2014 in partnership with Unilever, SKOLKOVO Sustainable Business Center (SSBC) is a center of expertise aimed at conducting problem-oriented interdisciplinary research, with a focus on business models that combine economic, environment and social dimensions. Its primary goal is to promote a sustainability agenda in Russian and CIS markets through extensive outreach of research results and education of a new generation of responsible business leaders.

China Studies Lab

In China, the fundamental barrier to successful business is less about identifying the opportunity and more about the inability to execute the plan more effectively than others. One's own management team, the team's relationship with corporate headquarters, the role of and relationship with local partners — all play a key role. The SKOLKOVO China Studies Lab provides expertise for business in three dimensions: Chinese culture, economy and politics. In 2015 the lab launched a first-of-a-kind breakthrough educational program in Russia dedicated to starting up and scaling business in China and with Chinese.

Global Strategies Studies

Global Strategies Lab is dedicated to studying management and business practices of companies in emerging markets and their strategies in going global. The Lab seeks to contribute to contemporary international management and be a valuable source of new management thinking and theory. The knowledge created within the Lab is envisioned to be a main reference point not only for practitioners in emerging countries planning to expand internationally but also for companies from the developed countries looking to better understand the rising new champions.

Regional Studies

The mission of the Regional Studies Lab is to enable the strategies of Russian business in emerging markets. The Lab focuses on increasingly important but under-studied global macro regions – Asia, Eurasia, the Middle East and the BRICS. The Lab aims at complex analysis of regional context ranging from political risks to business ethics combining academic knowledge with business expertise. The Lab produces analytical papers and education courses for business strategists and public officials.

Innovations and Digital Studies

The Innovations and Digital Studies Lab of SKOLKOVO IEMS studies the effects of new technologies, including the impact of digital transformation on living environments, conventional industries and corporations, personal leadership and teamwork, with a focus on emerging markets, especially the BRICS countries. We aim at helping the industry players, policy makers and opinion leaders to approach innovations and digital issues through informed discussions based on research that leads to targeted and balanced decision-making.
Contact us
SKOLKOVO IEMS

 

+7 495 539 30 03
SKOLKOVO Sustainable Business Center monitoring
Leave your contact details and we will send you our monthly monitoring